UPDATE: Job Openings For Skilled Filipino Workers in NEW ZEALAND 2017
If you missed the first batch of Job Opening we posted for skilled Filipino workers in New Zealand, worry not. There are still plenty of vacancies that can match your skills and qualifications.
"New Zealand has superior protection mechanism for expat workers compared to other countries. The income opportunity is higher compared to other countries. NZ$18/hour that's the minimum wage," said Jun Macas, president of Australia and New Zealand Association of Employment Providers of the Philippines.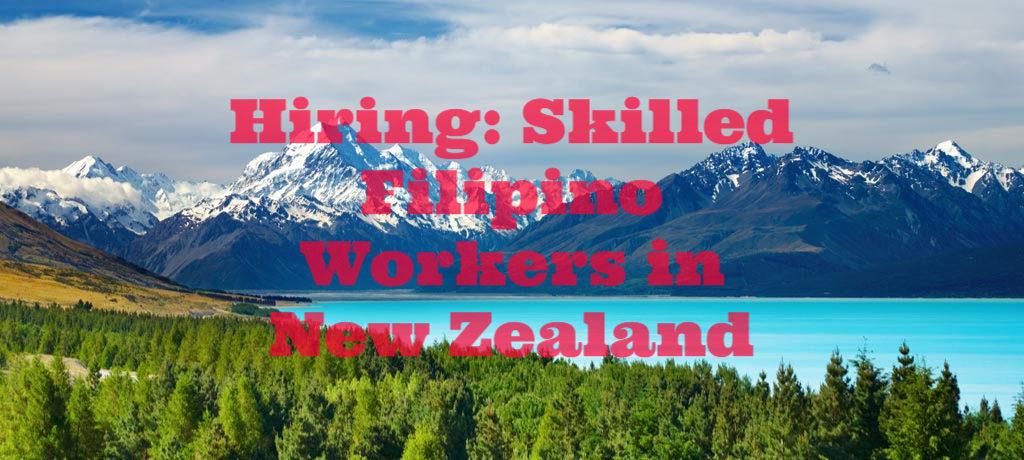 Aside from that, workers also have an option to apply for permanent residency after working for three years.
Convinced enough? Here is the list of POEA-accredited Recruitment Agencies that would connect you with your potential employers. You can also find the available positions and number of vacancies below.
ROUGH AND FINISHING CARPENTER: 2,000 Vacancies
URGENT HIRING & READY VISA
For interested applicants, please report to their office.
Open every Mondays to Fridays from 9:00am to 6:00pm
Look for Mr. Mike (Recruitment Account Manager)
Agency Name : PNI INTERNATIONAL CORP.
POEA License No. : POEA-018-LB-012816-R
Address : Unit 9D Strata 2000 Bldg. F. Ortigas Jr. Road, Ortigas Center Pasig City Metro Manila
Contact No. :(02)687-7498,(02)637-6125, (02)637-0173
Facebook : https://www.facebook.com/pniinternational
Website : http://pniinternationalcorp.com
FINISHING CARPENTERS: 40 Vacancies
ELECTRICAL ESTIMATORS: 40 Vacancies
CIVIL ENGINEERS: 20 Vacancies
ELECTRICAL DESIGN ENGINEERS: 10 Vacancies
FIRE PROTECTION ENGINEERS: 30 Vacancies
PIPE FITTERS (MEDICAL GAS TECHNICIAN): 30 VACANCIES
ROUGH CARPENTERS: 10 Vacancies
CABLE JOINTERS: 30 Vacancies
FIRE ENGINEERS: 30 Vacancies
HVAC TECHNICIANS: 30 Vacancies
INDUSTRIAL ELECTRICIAN: 50 Vacancies
LINE MECHANIC: 50 Vacancies
EXCAVATOR OPERATORS: 50 Vacancies
ELEVATOR INSTALLER TECHNICIAN: 30 Vacancies
For New Zealand contact concerns: 0999-8810527 / 0917-8112219 LOOK FOR Ms. Joy
FOR INTERESTED APPLICANT PLS VISIT THEIR OFFICE FROM 9AM TO 5:30 PM (MONDAY TO FRIDAY) OFFICE ADDRESS UNIT 907 CITYLAND HERRERA TOWER V.A RUFINO COR VALERO ST. SALCEDO VILLAGE MAKATI CITY AT THE BACK OF PBCom TOWER.BRING 2 SETS OF YOUR UPDATED RESUME WITH DETAILED JOB DESCRIPTION AND 2X2 RECENT PHOTO (PHOTO COPY OF CERT.OF EMPLOYMENT, TRAINING AND SEMINAR CERT.)
Agency Name : PROFILE OVERSEAS MANPOWER SERVICES INC.
POEA License No. : POEA-070-LB-031212-R
Address : Unit 907, 9/F, Cityland Herrera Tower, V.A. Rufino Cor. Valero Sts. Makati Metro Manila
Contact No. :(632) 813-3234
Website : http://www.profilemanpower.com
CARPENTER (ROUGH / FORMWORKS): 300 Vacancies
FINISHING CARPENTER: 50 Vacancies
GLAZIER / FRAMELESS GLASS INSTALLER: 60 Vacancies
TRAILER DRIVER / CAR CARRIER: 45 Vacancies
FACADE ENGINEER: 15 Vacancies
TRAILER DRIVER: 35 Vacancies
PRE CAST INSTALLER / CARPENTER: 20 Vacancies
HEAVY DIESEL MECHANIC (INSPECTOR ROLE): 50 Vacancies
BRICK / BLOCK LAYER: 20 Vacancies
IMPORTANT:
YOUR RESUME MUST HAVE DETAILED JOB DESCRIPTION AND CHARACTER REFERENCE FROM YOUR PAST AND PRESENT WORK WITH THE CONTACT DETAILS
PLEASE COMPLETE THE FOLLOWING REQUIREMENT:
COE, CONTRACT, OEC, VISA, PAYSLIP, OFW RECORD, TICKET, NBI, POLICE CLEARANCE (GET FROM CAMP CRAME OR YOU WILL GET IT TO THE COUNTRY WHERE IF YOU HAVE AN EXPERIENCE OF MORE THAN 5 YRS )
Any worker who has spent more than 5 years working in Saudi Arabia or any other country in total, must produce a current (last 6 months issued) Police Clearance from Saudi Arabia or any other country.
Immigration New Zealand used to accept Statutory Declarations etc saying the worker had tried and failed to obtain a Police Clearance. They no longer accept this.
FOR INQUIRIES CALL OR TXT TO 09063612112 OR 09206071947 LOOK FOR AUBREY
SEND YOUR RESUME WITH DETAILED JOB DESCRIPTION TO [email protected]
Agency Name : 21ST CENTURY MANPOWER RESOURCES INC.
POEA License No. : POEA-052-LB-022916-R
Address : Room 405 JR Bldg., 1520 Quezon Avenue, Brgy. South Triangle Quezon City Metro Manila
Contact No. :4101234
Website : http://www.21stcmri.com
CARPENTERS (ROUGH AND FINISHING): 100 Vacancies
CONCRETE PLACER WORKER: 100 Vacancies
MASON / TILE SETTERS: 100 Vacancies
STEEL FIXERS: 100 Vacancies

List of Requirements:
1. Updated Resume with job description
2. Passport (new/old)
3. Valid NBI
4. Birth / Marriage Certificate
5. College / High-school Diploma
6. Certificate of Employment ( in all company)
7. POEA Info sheet / OEC (for ex-abroad)
8. Trainings and Seminar
*Please send your updated CV to [email protected]
Agency Name : GREENFIELDS INTERNATIONAL MANPOWER SERVICES, INC.
POEA License No. :POEA-065-LB-0405811-R
Address: ARC Bldg. 1916 Leon Guinto St., Malate, Manila Metro Manila
Contact No. : 632 256-2311
Website: http://www.greenfieldsmanpower.co
CARPET LAYER / INSTALLER: 10 Vacancies
CONCRETE FINISHER / MASON: 10 Vacancies
ELECTRICAL SWITHBOARD MANUFACTURER: 10 Vacancies
FINISHING CARPENTER: 30 Vacancies
FORMWORK CARPENTER: 10 Vacancies
GRADER OPERATOR: 10 Vacancies
MILLER OPERATOR: 10 Vacancies
PAVER OPERATOR: 10 Vacancies
URGENT HIRING
For more info, please visit their website: www.grandplacement.com or look for Ms. Cherry.
Agency Name : GRAND PLACEMENT & GENERAL SERVICES CORP.
POEA License No. : POEA-153-LB-050912-TP
Address : 1636 F. Agoncillo St., Malate Manila Metro Manila
Contact No. :(02) 5251031
Website : http://www.grandplacement.com
FLOOR PREPARATION / CARPET INSTALLER: 10 Vacancies
PLASTERER / MASON: 10 Vacancies
FORMWORK CARPENTER: 20 Vacancies
You may walk in every Tuesday and Thursday, 2 p.m. to fill up the application form and bring required documents.
Agency Name : MABUHAY PERSONNEL & MANAGEMENT SERVICES, INC.
POEA License No. : POEA-081-LB-072210-R
Address : DNS Building 5059 Filmore St. Cor. Arellano St. Palanan Makati City Metro Manila
Contact No. :(632)8230289/8230311
Website : http://www.mabuhaypersonnel.com
To know the complete requirements and qualifications, simply get in touch with the listed recruitment agencies thru their contact numbers or official websites. Do not forget to like and follow our official Facebook Page to stay updated on the latest job openings in New Zealand and other countries.