DFA Now Requires Advanced Payment of Passport Fees for Aseana Site
If you are planning to secure a passport at the Department of Foreign Affairs Main Office at Aseana, do not be surprised if the website requires you to pay first before being able to set up an appointment.
That's because DFA has set to live test its e-payment system starting April 14 for application of new passports and renewal of old ones particularly at the DFA-Aseana site. The e-payment system will allow passport applicants to pay the processing fee through banks and other platforms, according to Foreign Affairs Secretary Alan Peter Cayetano.
In an advisory, the DFA stated that in preparation for the upcoming launch of the Passport ePayment or electronic payment facility for the Online Appointment System, applicants will be required to pay the passport fees in advance for appointments set in DFA-Aseana.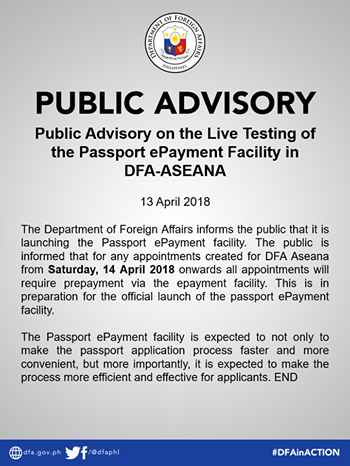 Cayetano announced the e-payment scheme in December last year as one of the efforts of the department to make passport applications easier for the public.
According to Assistant Secretary Frank Cimafranca of the Office of Consular Affairs, " When you enter your details on the appointment system, you will be made to pay."
"Bago tatanggapin 'yung application mo you will have to pay upfront. So you cannot avail of the appointment unless you pay," the official explained further during an interview with ABS-CBN News.
The official added that the system was set to prevent fixers from reserving slots and selling them to passport applicants, a rampant practice called out by many citizens on social media.
Aside from preventing the said scheme, it is also expected to improve the show-up rate of applicants, so the slots will only be reserved by those who are really sure to attend their appointment.
As of the moment, there is still no set date when the passport e-payment system will be implemented through out all consular and satellite offices.