Here is the Latest Top Paying Jobs for Fresh Graduates 2017
JobStreet has released the latest Fresh Graduate salary report for 2017 and it shows a different highest paying industry than last year. According to the report, three industries overtook the Information technology (IT) sector as the highest paying career for fresh graduates.
Fresh graduates who entered Law and Legal Services were paid an average monthly salary of Php 27,124 in 2016 taking the top spot. Meanwhile, those who work in the Healthcare industry get and average Php 23,216. The Journalism field got the third spot with Php 21,777.
Here is the estimated pay you might be receiving if you work in the following industry as entry level.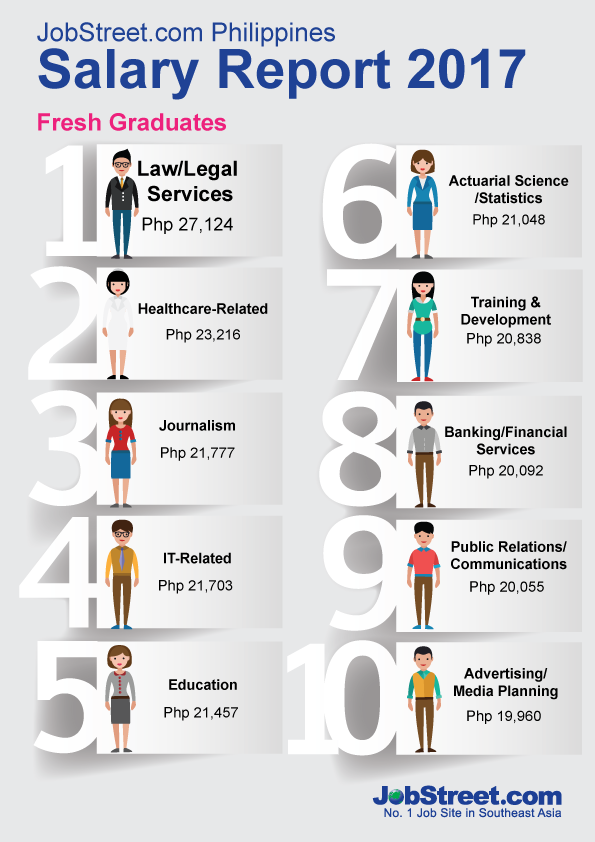 The Information Technology (IT) sector used to have the top spot, but slipped to fourth place with an average pay of Php 21,703. It used to get the first spot last 2014 and 2015.
According to JobStreet Philippines Country Manager Philip A. Gioca, the reason the IT sector dropped to fourth place is employers are now putting premiums in other industries.
"What I think is happening is that the BPO (business process outsourcing) industry is putting more premium on people who have specialization or talents in journalism, healthcare, and law," he said.
He added that the increase of call center agents resulted to the drop in average salary.
Also making it on the list are Education with Php21, 547, Acturial Science and Statistics (Php21, 048), and training and development (Php20, 838).
Making it on the eight place is Banking/Financial Services with an average pay of Php20, 092, Public Relations/Communications with Php20, 055 and Advertising/Media Planning with Php19, 960.
JobStreet releases its annual Salary Report to help employers craft
their salary packages.