Job Openings for Filipino Workers in Australia
According to a latest news report from The Guardian, Australia's economy will keep growing for the rest of 2017. Experts say it would most likely surpass Netherland's record for the world's longest run without a recession.
Thus, it is a great opportunity for Filipinos who are looking for better opportunities abroad. Minimum salary in Australia can go from at least A$672 or Php 25,900 per week. This is way more than a regular Filipino worker make in the Philippines.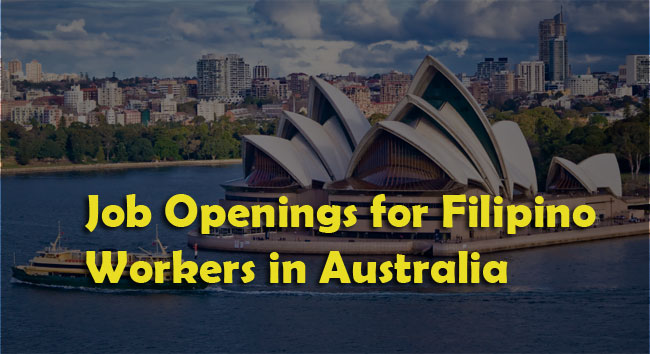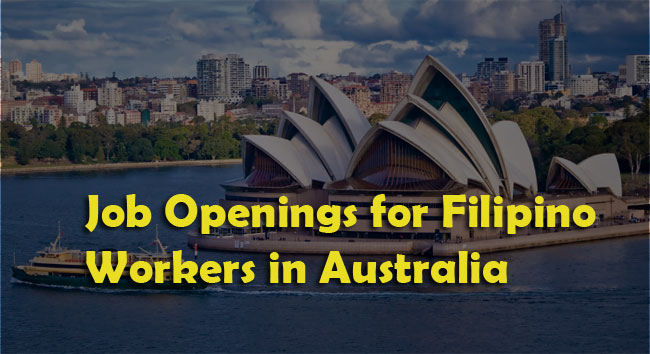 The good news is, you don't need to pay expensive placement fees to be able to work in Australia. You just need to get in touch with POEA accredited agencies to help you with your recruitment.
Here is a list of accredited POEA recruitment agencies and the current job vacancies they have for Australia.
SGS HUMAN RESOURCES CORPORATION
POEA License No: 018-LB-013012-R
Address: Rm. 504-505 Pasda Mansions, #77 Panay Avenue Corner Timog Avenue Quezon City
Tel No.: 09172402330 / 09297476640
Website: https://sgsresources.workabroad.ph
Email: [email protected], [email protected], [email protected]
Job Vacancies:

ALUMINUM GLASS FABRICATORS -20
BOILERMAKERS- 20
LIGHT VEHICLE / MOTOR MECHANICS- 50
STAINLESS STEEL FABRICATORS- 20
AUTO ELECTRICIANS/TECHNICIANS- 30
AUTO SPRAY PAINTERS- 50
*Interested applicants may send their application form to their email address.
*Download application form HERE.
*You could also WALK IN and bring a copy of the accomplished application form to their office. Business hours are from 8:00 AM to 4:00 PM, Mondays to Saturdays except holidays.
CAVES TREASURES MANPOWER & CONSTRUCTION CORP.
POEA License No: POEA-117-LB-090514-R
Address: Unit 31-A, 3/F ZETA II Building #191Salcedo Street, Legaspi Village, Makati City
Tel No. : (+632) 8134862
Website: https://cavestreasures.workabroad
Email: [email protected]
Job Vacancies:
CHEF- 3
RESTAURANT MANAGER (MC DONALD & SEAFOOD)- 6
AUTO TECHNICIAN (MAZDA)-10
FORKLIFT MECHANIC- 20
PAINTER (HOUSE/COMMERCIAL)- 20
TILE SETTER- 10
FEDERAL OVERSEAS MANPOWER INC.(FORMERLY LAVANDER INTERNATIONAL MANPOWER SERVICES)
POEA License No: POEA-012-LB-012016-R
Address: 3/F Brofar Bldg., 7493 Bagtikan St., San Antonio Village Makati
Tel No.: 4562619/3425337
Website: https://federaloverseas.workabroad.ph
Job Vacancies:
WELDER AND DIESEL MECHANIC- 10
STAINLESS STEEL PIPE WELDER (FITTER/CNC MACHINIST)- 10
AUTOMOTIVE ELECTRICIAN AND AUTOMOTIVE TECHNICIAN- 10
HEAVY VEHICLE DIESEL MECHANIC- 10
MOTORCYCLE MECHANIC- 10
DIESEL ENGINE MECHANIC- 10
DIESEL MECHANIC- 15

TESTMAN GENERAL SERVICES, INC.
POEA License No: POEA-120-LB-090814-R
Address: G/F & 2/F, A.L. Fino Bldg., 4771 Barasoain St., Brgy. Olympia Makati
Tel No.: (632) 5195024
Website: https://testman.workabroad.ph
Email: [email protected]
Job Vacancies:
CHEF- 40
CONCRETE PUMP OPERATOR- 10
*Email your resume at [email protected]
*Resume should be with job description and in word format.